For hundreds of years, tile makers have used terra cotta clay to make terra cotta clay tiles, known for their distinct red color. The unique style, color, and durability of terra cotta clay tiles add refined, old-world elegance to a home or building. They enhance a structure's curb appeal and meet many families and commercial buildings' design goals.
However, several issues can make terra cotta clay tiles an unsuitable choice for your home or building. High maintenance terra cotta tiles can crack if stepped on or are hit by debris. They also lack moisture- and cold-temperature resistance and will require an underlayment replacement after 20 years.
How are Terra Cotta Clay Tiles Made?
To make terra cotta clay tiles, manufacturers shape terra cotta clay into tiles through extrusion, molding, and pressing. The tiles must adequately dry out before firing to avoid cracking. Before firing, covering the tiles with a unique glaze increases its durability. It also ensures a long-lasting, protective finish that contains an attractive sheen. Once completely dried, the clay tiles are placed in high-temperature kilns, which bakes in the color.
Clay Tile Roofing Styles and Shapes
Generally, clay roofing tiles come in two shapes, round pan and flat tiles. Pan tiles include barrel (or Mission) and Spanish style. Flat tiles have two flat pieces overlapped by a single curved tile, available in slab, shingle, book, or French styles. Pan and flat tiles, either interlock or overlap, depending on their design.
Interlocking Clay Tiles
Interlocking clay tiles have an extrusion or lip on one tile that hooks over an edge or channel on an adjacent tile. Many flat clay tiles interlock — the preferred choice for regions with heavy rain or snow.
Flat-overlapping clay tiles
Flat-overlapping clay tiles stagger joints in overlapping courses like shingles or slates.
Pan tiles overlap
Pan tiles overlap the convex cap tiles and the concave pan or trough tiles on both sides. Spanish tiles (S-tiles) combine the pan and cap into a single tile.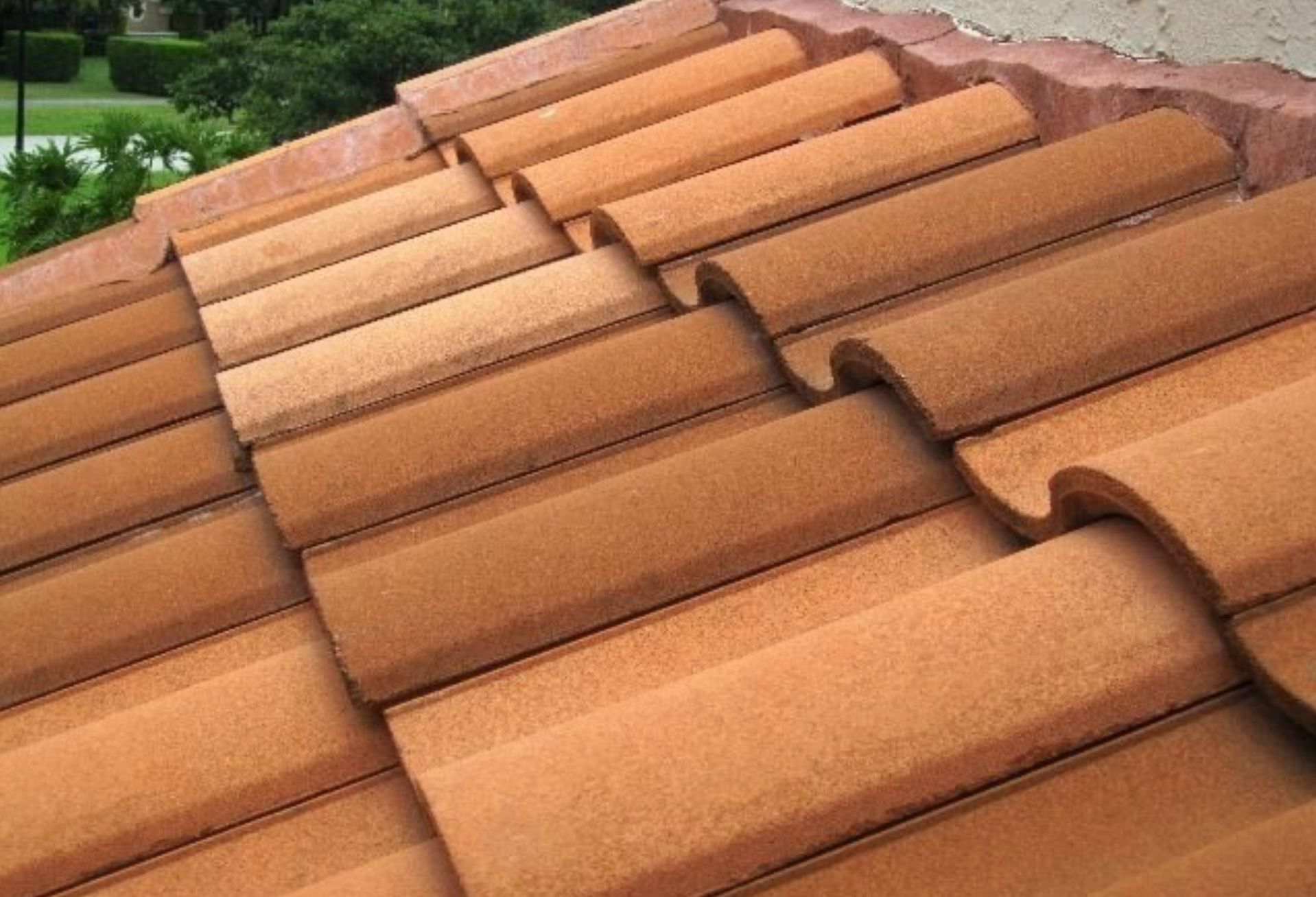 The Pros and Cons of Terra Cotta Roofing Tiles
Versatile terra cotta clay tile roofs provide many long-term advantages, working well on both commercial and residential roofs. However, the key to a long-lasting and durable terra cotta roof is a proper and professional clay tile roof installation. A clay roof may develop problems due to inadequate flashing or lapping of the tiles — both of which diminish the roof's integrity and lead to leaks in the roofing.
Pros of Terra Cotta Roofing Tiles
Durability
The durability of clay tile roofs protects them from weathering as quickly as other roof systems, like asphalt. You can find ancient clay tile roofs in Italy or Greece that have lasted for hundreds of years. Today, one might expect a life expectancy of 100 years for a clay tile roof. Properly installed terra cotta clay tiles resist fire, impact, wind, and rot.
Fire-Resistant
The stone-like qualities of clay tiles make it fire-resistant, so it can help protect a home from falling ash and embers. Clay roof tiles achieve the highest fire level rating — Class A.
Impact-Resistant
High-impact-resistant clay tiles can withstand the impact from two-inch diameter hail. Clay tiles have achieved an impact rating of Class 3 and Class 4 (the highest impact rating).
Wind-Resistant
The heavyweight and layered structure of clay tile provides significant wind resistance, protecting your home from wind speeds of up to 150 mph.
Rot-Resistant
Clay tile will not rot and resists damage from insects. In order to prevent insects like wasps from making nests between the clay tiles' gaps, add a cement filler between the gaps.
Timeless Aesthetic
Terra cotta tiles offer more than durability — they also bring a timeless look to any home. This earthy, warm color fits well with different styles, making it a classic choice for both modern and traditional designs. Terracotta colors are always in fashion and beautiful.
Sustainability
Eco-Friendly
Manufacturers use the Earth's natural materials to make eco-friendly and recyclable clay tile roofs, and making clay tile doesn't release harmful chemicals into the air.
Energy-Efficient
Clay tile roofs provide exceptional thermal properties, reducing heat loss or gain. The tiles' layering allows for good air-flow and natural air ventilation. This creates a heat transfer barrier that keeps your roof warm in the winter and cool in the summer — lowering energy costs by as much as 20%.
The Cons of Terra Cotta Clay Tiles
Weight
Terra cotta clay tiles weigh between 600 - 1500 pounds per 100 square feet, making it one of the heaviest types of roofing tiles on the market. The excess weight of clay tile roofs requires home and building owners to add extra reinforcement to the roof framing, particularly in regions prone to significant snow accumulation. Reinforcing a tile roof can cost between $1,000 and $10,000.
High Cost
Clay tiles are one of the most expensive roofing materials on the market, compared to asphalt, wood, and metal tiles. Clay tile roofs cost between $120 and $250 per 100 square foot for material, depending on the pitch, slope, and size of your roof. A new clay tile roof for a 1,500-square-foot roof requires 15 squares, costing about $20,000.
Fragile
Fragile clay tile roofs can easily break during installation when stepped on, and also from falling branches and other debris - compromising the roof's integrity and leading to roofing and structural damage. You must regularly inspect a clay tile roof for damage, then immediately repair or replace any broken or cracked tiles.
Underlayment Issues
Clay roofing tiles can last up to 100 years, however the underlayment only lasts only 20 years. Replacing the underlayment for a 1500-foot 2-tile roof costs $5400 to $7660, including labor. The time-consuming, tedious, and costly replacement of underlayment involves removing the damaged clay tiles, replacing the underlayment, and then reinstalling new tiles.
A Lack of Water Resistance
Clay tiles are water-shedding systems, meaning they will let some water through from windblown rain, melting snow, etc. Therefore, clay tile roofs require a waterproofing membrane.
Climate Limitations
Terra cotta clay tiles may crack or break during rapid freezing and melting; therefore, it is not the right choice for extremely cold climates.
Pitch Limitations
Clay tiles tend to shake on steep roofs. Therefore, the minimum slope allowed for clay tiles is 2½:12 inches. Roof slopes between 2½:12 inches and 4:12 require a double layer of underlayment. Roofs with slopes greater than 4:12 should not use clay tiles.
Brava Synthetic Roofing - A Better Alternative to Terra Cotta Clay Roofing Tiles
Beautiful and generally durable terra cotta clay tiles have historically provided a long-lasting roofing system that resists fire, rot, impact, and wind damage. They are also eco-friendly. However, the cost to install terra cotta clay tiles, along with its excessive weight, often requiring an increase in the house's or building's structural support, can diminish the clay tile's appeal quickly. Many find the high-maintenance of terra cotta clay roofs expensive and time-consuming due to the risk of cracking, a lack of moisture and temperature resistance, and a need to replace the underlayment after 20 years.
Brava composite roofing products provide home and building owners an alternative to terra cotta clay tiles. Lightweight Brava roofing products provide the best protection against impact, moisture, and structural damage - all backed by our 50-year warranty. These protections also help shield the underlayment, reducing its need for replacement. However, we also offer an underlayment with a 50-year warranty.
We're proud of our color story, offering homeowners a selection of color options to meet any aesthetic.

Our light-weight products lower installation costs by eliminating the need for extra structural support, and lessen labor costs. We pride ourselves on the environmentally-friendly features of all Brava products:
Durable Brava composite tiles make a sustainable-long-lasting roof with the highest level of protection against freezing temperatures, fire, wind, and hail. A class 4 impact rating protects against 188+ mph wind resistance with ring shank nails - the highest in the industry.
The composition of Brava composite tiles includes only recycled plastics (polymer) and other fully sustainable products.
Brava composite tiles are entirely recyclable.
Brava composite tiles produce cool roofs that reflect solar heat, helping home and building owners save energy and lower heating bills.
Brava Barrel Tile - Composite Spanish Roof Tile
Brava is simply a better alternative to terra cotta clay tiles. Our revolutionary multi-coloring process creates a product with authentic color variation and flow (in any custom color or combination) throughout the entire tile, easily mimicking the beauty of terra cotta clay tiles. Brava's composite Spanish roofing tiles offer homeowners the ideal barrel-clay tile alternative.
See how Brava synthetic Spanish barrel tiles compare to traditional materials, as well as to other composite tile options and asphalt shingles.
Along with its aesthetic value, our product has several other significant advantages:
Durable barrel tile stands out as the only composite Spanish tile on the market that is 3rd-party tested, and Miami-Dade County approved.
Environmentally-friendly Brava Spanish Class C tile is the only white composite tile on the market.
Lightweight barrel tiles eliminate the need for costly structural support, lessening the installation costs for labor, and dramatically decreasing roof maintenance.
All Brava roofing products withstand freeze/thaw cycles and extreme heat.
Brava roofing products resist damaging and unhealthy mold since the tiles do not absorb water.
Try Brava Spanish barrel roof tiles on your home with our visualizer!
Interested in Other Classic Roof Tiles Options?
Brava offers more than just synthetic Spanish barrel tiles. Slate tiles and Cedar shake tiles are equally as traditional and sought after as an aesthetic, and may be the right match for your architecture and locale.
Brava's Synthetic Slate Tile
If you're seeking the breathtaking beauty of natural quarried slate roofing but wish to steer clear of the expensive structural adjustments needed to accommodate the substantial weight of slate tiles, Brava presents an innovative solution with their composite slate tile.
With a 1" profile, Brava's Old World Slate polymer tile has the volume of traditional slate roof tiles with a fraction of the weight. This allows for less expensive shipping costs and ease of installation. Our Old World Slate shingles have the thickest synthetic slate roof profile available.

Natural slate tile is fragile and requires lots of attention throughout the years. Chips or cracks can lead to costly repairs, and finding a color match for replacement slate shingles is next to impossible. Brava Old World Slate roofing shingles are Class 4 impact rated (the highest in the industry) and hail warrantied. Brava Old World Slate is also available in Class A or Class C fire rating.
Our synthetic slate shingles are made of recycled plastics (polymer) and other fully sustainable materials. Our eco-friendly composite slate tile is the ideal replication of slate roofing. Brava's composite roofing product is an extremely attractive, durable, and the environmentally friendly alternative to concrete roof tile or slate roofing systems. Installing composite slate roof tiles is the best slate roofing alternative.
Try Brava slate tiles on your home with our visualizer!
Brava's Synthetic Cedar Shake
If you're in the market for an alternative to cedar shake roofing, make sure to prioritize Brava's synthetic shake roofing tiles. Our polymer shingles capture the authentic charm and rustic split textures of genuine cedar while incorporating the remarkable advantages of a composite roofing material. When it comes to excellence in quality and craftsmanship, there's no rival. We take pride in producing the finest composite shake shingles on the market.
Brava composite shake tile offers the aesthetics of hand split cedar, that even the most fastidious consumer would agree is stunningly the same. Our multi-colored synthetic roof tile is unparalleled in the composite roofing market and is available in three different widths and 11 colors. The product can be installed in straight courses or in a staggered application to give it a more rugged appearance.
Brava's composite roof tiles vary in thickness from ⅝" to ⅞" creating desirable shadow lines. With it's classic look, in combination with a 50-year limited warranty, it is clear that our polymer shake roof tile is a desirable and intelligent way to protect your home. When you install our composite roofing product you can be confident that your new imitation cedar shake roof life expectancy will be much longer than that of natural wood shingles. Less maintenance and repairs result in a greater return on investment.
Try Brava cedar shakes on your home with our visualizer!
To see more finished projects and see our award-winning products in action, take a look at our photo gallery and video gallery.
Find the Best Traditional Roofing Styles in Durable, Stylish Synthetic Materials from Brava
For more on why Brava composite Spanish roofing tiles are a better solution than terra cotta clay tiles, please contact one of the experienced professionals at Brava roofing tiles today, or upload your home's image to our visualizer and see how it would look with our tiles! We're also happy to send a complimentary sample, offer a quote, and help connect you with a contractor.
For more homeowner information, please visit the links below: