Complementing your home's brick exterior and roofing color makes your house come alive, defining its look and style for the long-term. However, you also need to consider the whole house, its slope, the landscaping, and nearby homes when making color decisions for your brick facade and roofing. Depending on the home's style, a roof can make up about 40 percent of what you see from the curb. Therefore, your home's curb appeal, and ultimately resale value, significantly depends on an aesthetically pleasing roof and brick color combination.
Choosing a Roof Color for a Brick House
When you pick your roof color, select one that enhances the brick's beauty and draws the eye up towards details like gables and dormers. Your exterior brick's color pigments or casts should also guide you towards selecting the right roofing color. Your home's architectural style and other permanent exterior features (foundation, landscaping, trims, and even your neighbor's house) should match the roofing color and style, as well. Consider how the Sun will affect the roof color — before choosing a roof tile, always view a sample tile in full sunlight. The best roof color for a brick house considers all aspects of the home's exterior design and surrounding landscape.
Understanding Brick's Color Pigments
Choosing the right roof and brick color combination for your home involves identifying your brick facade's color and underlying colors. Roof colors should unify a home's brick exterior — blending, yet complementing one another. For instance, all your exterior features should have the same tones, warm or cool — mixing tones will make your house appear off-balanced. These four brick house roof ideas take into account the primary cast color of the brick.
Tan, gold, or brown cast bricks look nice with warm colors or a blend of roofing tiles that include the brick's primary cast color.
Multiple-colored roofing tiles should include one color that pulls out the primary color cast of the brick.
You can enhance the appearance of gray cast bricks with darker gray roofing.
White cast bricks soften the look of the home. They blend well with mid-tone roof colors.
7 Brick and Roof Color Combinations for Your Home
The brick and roof color combination of a home's exterior contributes significantly towards its style and color scheme. The right shingle color for your red brick house can create a warm-welcoming feel, a historical, traditional, or modern look, or produce something unique, setting your home apart from other brick homes. However, this can be challenging with red brick because it comes in various tones — and you need to identify the brick's undertones before choosing your roofing color. The roof's slope, trims, and style should also play into your choice of roofing color and material.
1. A Red Brick House with Stone Accents
In this photo, the cool-toned red (brown cast) brick house with stone accents works well with cool blueish-grey roofing, creating a sophisticated yet rustic style. The smooth slate roofing also pairs well with the textured facade, creating a synchronized and welcoming look to the home.
2. Red-Brick Houses with White Undertones
With white casts, red bricks pairs excellently with mid-tone roofing colors — shades in the middle of the tonal spectrum, neither light nor dark. The cool-white undertones of this red-brick home blend well with the cool medium-grey roof with black undertones and the uncomplicated architecture of the home's exterior matches well with the plain-textured roofing.
3. Roof Colors for Red Brick Houses with Steep Roofs
This home's facade of warm-toned red brick with brown casts pairs well with warm-maroon roofing. When choosing the roofing color and style, you should consider the roof's slope. For instance, a steep roof can compose between 50 to 60 percent of your home's visible exterior. Therefore, choosing a roof color that blends with the brick will keep the roof from overwhelming the rest of the house and will make the home appear taller.
4. Add Color to Low-Pitched Roofs
The curb appeal of a red-brick home with a low-pitched roof will benefit from a colorful roof that adds a pop of color. A subtle-grey roof, like the one in this photo, practically makes the roof disappear. Adding a green roof to this brick house would add personality and interest to the home's exterior.
5. Working with a Patterned-Brick Exterior
If a home has a brick with a distinct pattern, select a solid roofing color that won't compete for attention. For instance, this home, with a detailed, cool-toned, red-burgundy-brick pattern, pairs well with a strong-solid-black roof. The solid-black roof draws eyes upward, bringing attention to the classic gables in the roofline.
6. Choosing Shingle Colors to Clad a Gable Wall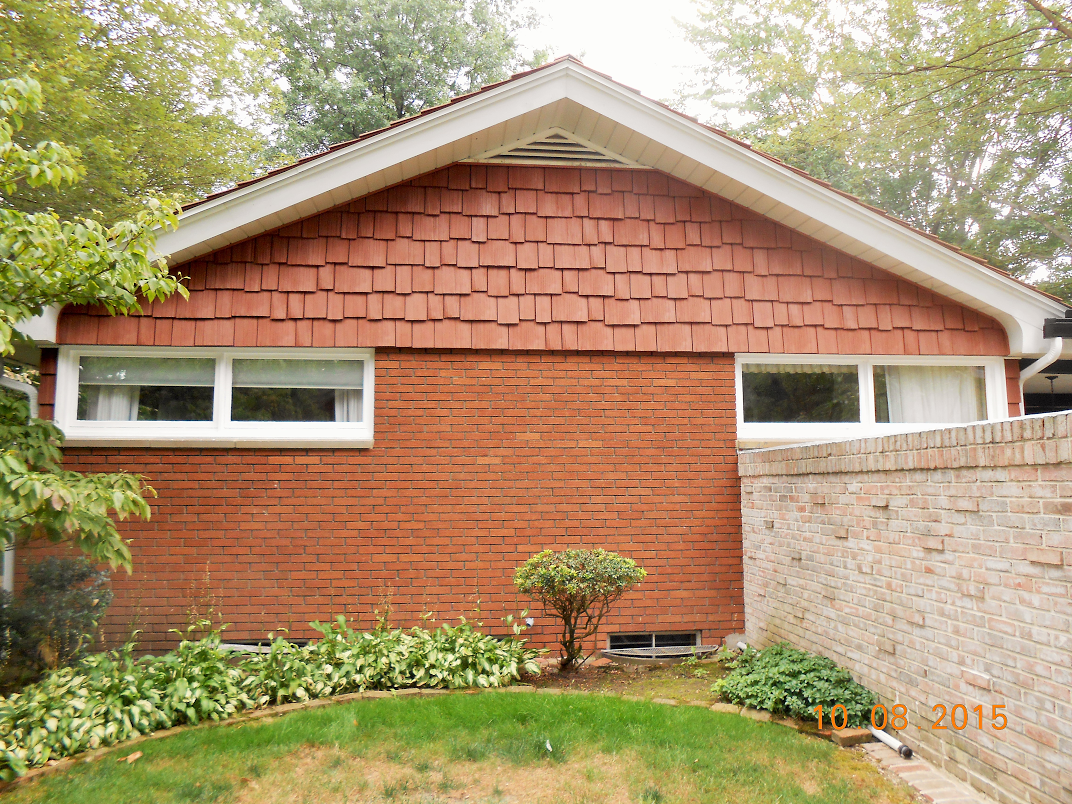 A gable wall clad in cedar shingles creates texture, pattern, and distinction to a red-brick home. For small homes, it can draw the eye upward, giving the illusion of a larger house. The color of shingles on the wall should complement the brick, just like shingles on a roof. A home with warm red brick with orange undertones matches well with a similar warm-orange color shingle. Other color options include warm-green shingles with yellow, brown, and tan undertones.
7. Pairing Synthetic Cedar Shakes with a Red-Brick Home
Synthetic-cedar-shake shingles offer the best color roofing shingle for a red-brick house. The tan, beige, and brown color of these shingles perfectly complement the warm-red-brick siding, bringing warmth and charm to the home. These Aspen synthetic-cedar-shake roofing tiles from Brava mimic real, aged cedar roof tiles, making them an excellent option for many traditional architectural styles like Victorian, Colonial Revival, and Bungalow.
Brava Synthetic Roofing Tiles Offer Endless Color Option for a Brick House
Brava's synthetic roofing tiles can meet all your roofing color needs to best complement your brick home. We can perfectly match any solid color, and our revolutionary multi-coloring process allows us to blend Spanish tile, slate, or shake colors together, producing variation throughout the entire tile, not only on the surface. Our color process gives roofing tile an authentic color variation and flow — in any custom color or combination. Brava's roof tiles provide several other benefits: durability, strength, insulative value, low maintenance, and moisture and temperature resistance. Easy to install, lightweight synthetic tiles can save builders and homeowners time and money.
Brava Roofing Styles
Brava offers three unique composite tile styles with all the benefits of synthetic tile, fitting for any architectural design. Our tiles achieve the beauty of cedar shake, Spanish clay tile, and natural slate.
Shake
, available in any color or color combination, offers the natural-charm and rustic-split textures of real cedar wood. Synthetic shakes last longer and have less maintenance and repair issues than natural wood shingles. They also provide a greater return on investment, fewer damage worries, and a long-lasting aesthetic.
Barrel
Brava's composite Spanish roofing tiles are an excellent alternative to barrel clay tiles. Brava Spanish tile comes in the traditional terra cotta, multi-colored blends, and aged tile blends. It's important to know that lightweight, synthetic barrel tiles do not require expensive structural support, like barrel clay tiles.
Slate
from Brava offers the elegance and dignity of quarried slate, with a fraction of the weight — without the costly substructure modifications. The 1-inch thick profile produces beautiful color exposure (in any custom color or color combination) and unmatched durability.
Brava Can Help You Pick the Best Roofing Color For Your Home
The right color combination of brick facade and roofing will enhance your home's curb appeal and resale value. The primary and underlying casts of your brick, along with the architectural style and roof pitch of your home, are critical factors to selecting the best roof color. Get Inspired - Click Here to Order Your Complimentary Lookbook.