The world of roofing options has improved drastically in the last 20-years. In the not-so-distant past, if you were deciding on a new roof or replacing your old shingles, your choices were limited to the variation in design of asphalt shingles. There were 20-year shingles and there were 30 and 40-year shingles, but they were all asphalt-based. Synthetic composite shingles were available but the price kept most people out of the market. Composite roofing tiles (synthetic roofing) have changed the market drastically by introducing a 50-year roofing tile that is available in various designs such as Cedar shake, Barrel roof and Old World slate, for example. While gray roof tiles have been available in a few shades in the asphalt shingle category, the composite roofing market has introduced many different shades of grey such as:
Dark grey
Gray slate, and
Charcoal grey roof tiles.
Choosing the best gray roofing tile for your budget and aesthetic needs will depend upon a few variables, and this article will review the highlights of asphalt, natural, and synthetic roofing tiles to help you make an informed decision.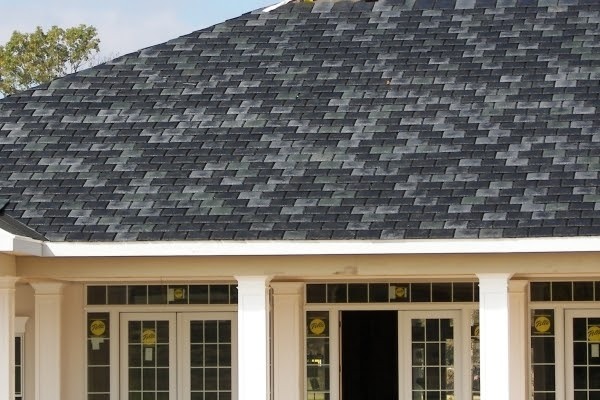 Grey Asphalt Shingles
Asphalt has been the mainstay of the shingle business for almost a century. They first gained acceptance in 1901, and by 1939 asphalt shingles were the favorite roof covering in the residential marketplace. They were inexpensive to produce and easy to install. With the addition of colored slate particles on the surface of asphalt shingles, grey roof tiles became popular because they blended well with almost any house color and from a distance, looked like slate.
The negative side of asphalt shingles — even today — is heat absorption and limited protection against hail. Asphalt has always been a conductor of heat, regardless of the color of the roof tile, and hail larger than an inch and a half can cause significant damage requiring the homeowner to replace the roof sooner than expected.
Asphalt roof tiles are not recyclable. Once an asphalt roof has come to the end of its useful life, it goes into a landfill, unlike many synthetic roof tiles that can be recycled.
Gray Slate Roof Tiles
Natural slate roofing is beautiful and can be found on many homes of distinction in Europe and North America. It is usually handcrafted, piece by piece, producing different textures and shapes that can be blended by a professional installer to create a masterpiece on your roof. After installation, it requires very little maintenance and some slate roofs have been in use for over a hundred years. Slate is a desirable roof covering, however, the color choices are usually limited to grey and black (with few exceptions). Natural slate is extremely heavy and expensive. In order to have a one-of-a-kind natural slate roof installed, you must have the roof structure designed for the extra weight; or if you are replacing an existing asphalt or wood roof, you will have to add extra structural support to keep your roof from possibly collapsing. In addition, experienced professionals will be needed to install the slate tiles, since the individual pieces are very brittle and must be positioned correctly to avoid breakage and a leaking roof. That same individual will be needed if any maintenance is required in order to avoid excessive damage and personal injury.
Gray Cedar Shake Tiles
Cedar shake roofing tiles provide a stunning architectural enhancement to almost any home. Their irregular, thick shape gives a home a natural rustic look that is appealing on a mountain cabin in Germany or a Cape Cod home in New England. Cedar is durable and long-lasting, and resistant to bug infestation, but is more susceptible to fire damage unless chemically treated with fire retardants prior to installation. In addition, cedar shakes can sustain a great deal of damage in a heavy hailstorm.
Natural cedar shakes should be installed by professionals because there are special tools required to do the job correctly and the layout of the shakes must be exact or roof leaks will result. A cedar shake roof will require regular maintenance to keep it in top-notch condition.
Cedar shake roof tiles will naturally age to a silvery grey over time, achieving that classic look everyone is accustomed to. However, if you want a grey tile roof and the fashionable look of a cedar shake from the moment your new roof is installed, there is an option that gives you the best of both worlds.
Synthetic Cedar Shakes from Brava Roof Tile Company
For those that love the silver-grey color that cedar shakes age to over the years, but don't want to wait for the process, grey cedar shakes are available as well as any variation on a grey roof tile that your imagination can conceive. We can manufacture your synthetic cedar shake tiles in any color, including custom colors. Synthetic cedar shakes give you the beauty of natural cedar with many additional advantages:
50-year limited warranty
Class A fire rating
Class IV impact rating
Eco-friendly.
Made from recycled materials
No need for special installers
Available across the U.S.
Made in 3 different widths and 2 thicknesses
Designed to work in all climates
Brava Roof Tile has been manufacturing the highest quality roofing tiles that mimic Cedar shake shingles, Barrel roof tiles and Old World slate for decades and our products come with a standard 50-year limited warranty. We offer videos and written installation instructions, as well as professional customer service on the phone to help you right away.
Contact us today to get your roofing project started right.