Your home's curb appeal plays a significant role in determining its resale value. It's the first impression a potential buyer gets, often making the difference if your house will sell quickly or languish on the market for months. Curb appeal depends on an aesthetically pleasing color-coordinated roof and siding. Siding and roof color combinations should complement and enhance your home's unique personality, creating a warm and welcoming feel.
How to Pick Siding and Roof Colors
The variety of choices for house siding and roof color combinations can overwhelm many homeowners.
Fortunately, we've collected several ideas for selecting the best siding and roof color combinations; whether you are re-roofing, re-siding, or doing both, the right color combination will add value to your investment, making your home inviting and comfortable. Check out these tips for choosing the right paint colors for your home.
But, before choosing siding and roof colors, determine if you plan to design with warm or cool colors and if you want tinted color, shaded, and toned colors.

What are Warm Colors?
Warm colors include yellow, orange, red, and combinations, suggesting sunshine and heat. They tend to breathe energy, positivity, and a sense of charm and coziness to the exterior of a home.
What are Cool Colors?
Calming cool colors, like green, blue, and purple, evoke relaxation and peace, reminding you of the sky, water, ice, and snow. They can enhance a space, making cool colors an excellent exterior choice for a small home.
What about Neutral Colors?
Neutrals colors, like gray, beige, taupe, ivory, black, and shades of white appear without color; however are created by mixing two complementary colors, creating hue undertones that identify the neutrals as warm or cool. For instance, cool grays contain blue undertones, while warm grays have hints of yellow and brown.
Tinted, Shaded, or Toned Colors
Tinted Colors
Adding white to a color will tint or lighten it. Painting exterior siding in a tinted color will make a house look larger and more inviting. Lighter colors can also bring a home visually forward.
Shaded Colors
Adding black to a color will shade or darken it. Exterior siding painted a shaded color seems more significant or important. Painting your home's lower portion a shaded color suggests stability and permanence.
Why Do Designers Like Color Tones?
Tone represents the hue color's intensity, based on the amount of neutral gray added to the hue — gray lowers the hue's intensity. Many designers consider lower-intense, toned pigments visually pleasing and more sophisticated than loud, vibrant hues.
How to Match Siding to Existing Roofing
Selecting the right new siding for your existing roof involves first identifying your roof's hue (base color).
What is Hue?
When you look at an object, the hue color stands out as the underlying base color. Warm and cool hue colors include the primary (yellow, red, blue) and secondary colors (orange, purple, green). In their pure form, hue colors do not have white, black, or grey pigments that create tint, shade, and tone colors.
For matching siding and roof colors, designers and architects strongly recommend, for flow and continuity, to stick to either warm or cool colors for the exterior of your home.
For instance, for an existing slate roof with a warm-red hue, adding beautiful red, grey-toned siding creates a charming yet sophisticated exterior appearance to a home.
This warm-brown roof, with orange undertones, and tinted with white, pairs well with warm-white siding, toned with muted-warm yellow. It creates an inviting and simple, yet elegant, exterior style.
How to Match Roofing to Existing Siding
Choosing new roofing to match the existing siding involves determining the sidings hue's temperature. The temperature (warm or cool) of the siding's hue should match the temperatures of the roofing product you select.
The cool-blue siding, toned along with deep grey, and the white accents with hints of blue, blend with the neutral brown roof with cool-blue-grey undertones, creating a clean and fresh appearance.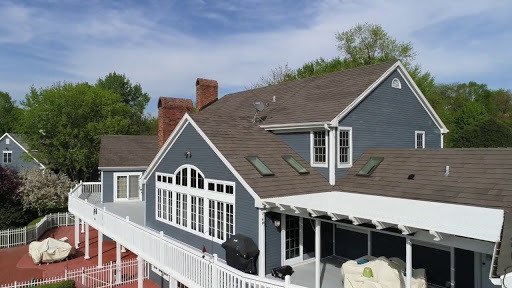 A warm-stoned facade with brown and orange tones pairs excellently with a slate roof with orange undertones, creating an elegant yet cottage feel to this warm, welcoming home.
Make Your Home Look Larger with the Right Roof and Siding Color Combination
Applying Brava's gray-blue composite Spanish tiles creates a crisp, neat look, visually enhancing this small home's size, with its stone exterior with smoky-blue undertones.
Brava Synthetic Roofing Tiles Simplify Matching Siding and Roof Color Combinations
Brava's synthetic roofing tiles (in Spanish tile, slate, or shake styles) offer unlimited custom colors, complementing any siding color — whether cool or warm. Brava's revolutionary multi-coloring process blends colors, producing variation throughout the tile with authentic color variation and flow. Brava's roof tiles also provide several other significant benefits: durability, strength, insulative value, low maintenance, temperature, and moisture resistance. The easy-to-install lightweight synthetic tiles can also save homeowners and builders money and time.
Brava Can Help You Choose the Best Roofing Color For Your Home's Siding
The right house siding and roof color combinations will enhance your home's curb appeal and value. It also creates an inviting and sophisticated look for homes from rustic to modern. Selecting colors for both the roof and siding consistent with either a warm or cool palette will ensure a well designed and welcoming home. Contact the roofing experts at Brava roof tile today for more tips on picking the best siding and roof color combinations for your home.