Any roof covering used in Canada must be able to handle a variety of weather conditions. The obvious challenges are heavy snow and ice buildup in the north from Arctic winds, while homes on the coastline have to deal with excess dampness. In the middle of the country, the regular cycles of heat and cold can also be a real challenge.
Bottom line: A roof in Canada needs to look good and be able to withstand some of the most diverse weather conditions in North America.
Historically, cedar shake shingles have been one of the most popular roof coverings in Canada, and for good reasons:
Readily available
Aesthetically pleasing
Will last many years if installed properly
Since they provide great protection against the elements, they can be found on residential and commercial structures throughout the territories and provinces. Though natural cedar shingles may provide the curb appeal you desire, are they the best option to protect your home from the elements, safeguard the environment and ensure that you are getting the highest value for your dollar? Perhaps synthetic cedar shakes are the better option?
What Are Synthetic Cedar Shakes?
Synthetic roof tiles were developed as an eco-friendly alternative to natural wood, slate, and clay roofing products. They are manufactured to replicate each of these natural products, providing a close match in appearance, while exceeding the performance limitations of natural materials.
As the name implies, synthetic cedar shakes are the result of a process that combines, or synthesizes, various materials into their final shape for use on a roof. They are manufactured from 100%-recycled compressed plastics and almost perfectly mimic their natural counterparts.
Pros And Cons of Synthetic Shakes vs. Natural Wood Shakes
Disadvantages Of Natural Cedar Shakes
To appreciate the advantages of synthetic cedar shakes, you must first consider the disadvantages of real cedar shakes. Though beautiful, natural cedar has some drawbacks:
Real cedar shakes are expensive to purchase and install. They must be harvested from the forest which involves the extensive use of machinery and manpower, and the installation must be performed by roofers that specialize in cedar shakes.
They are expensive to maintain. Real cedar is susceptible to mold and mildew if water pockets develop. Maintenance must be done by the same professionals that installed the roof to avoid costly damage to the shingles.
Some regions will not allow wood roofing of any type. Areas that are prone to wildfires may prohibit the use of wood shingles, even if they are fire rated.
Temperature extremes can cause wood to deteriorate quickly. Wood naturally expands and contracts with changes in temperature and humidity. Over time, cedar shakes can lose their integrity because of these movements.
Advantages Of Synthetic Cedar Roof Shakes
Synthetic cedar shakes offer the rustic charm of wood without the disadvantages. In addition to being made entirely from recycled materials, composite shakes are:
Class A fire rated
Rated with a Class 4 impact rating
Available in almost unlimited colors
Less expensive to install that standard wood shakes
Almost maintenance free
Resistant to mold, because they don't absorb water
Able to withstand extreme cold/heat cycles without damage
Made in varying thicknesses to replicate real shakes
Able to be safely walked on
Canada's weather extremes are an important consideration in choosing a synthetic cedar shingle over natural wood. In the northern regions of the country, snowfall could lie on a roof for weeks. This lengthy contact with moisture can adversely affect the life expectancy of wood, but it's not an issue with composite shakes. Additionally, synthetic shakes will not fade like cedar, which means repairs - if ever needed - will not stand out because of color differences.
Brava Roof Tile Leads The Synthetic Shake Industry
Many of our competitors offer plastic shingles that simply look fake. They are manufactured in one thickness and one pattern and cannot replicate the look of natural cedar. Our synthetic cedar shakes are made in varying thicknesses and widths which make them almost identical to their natural counterparts.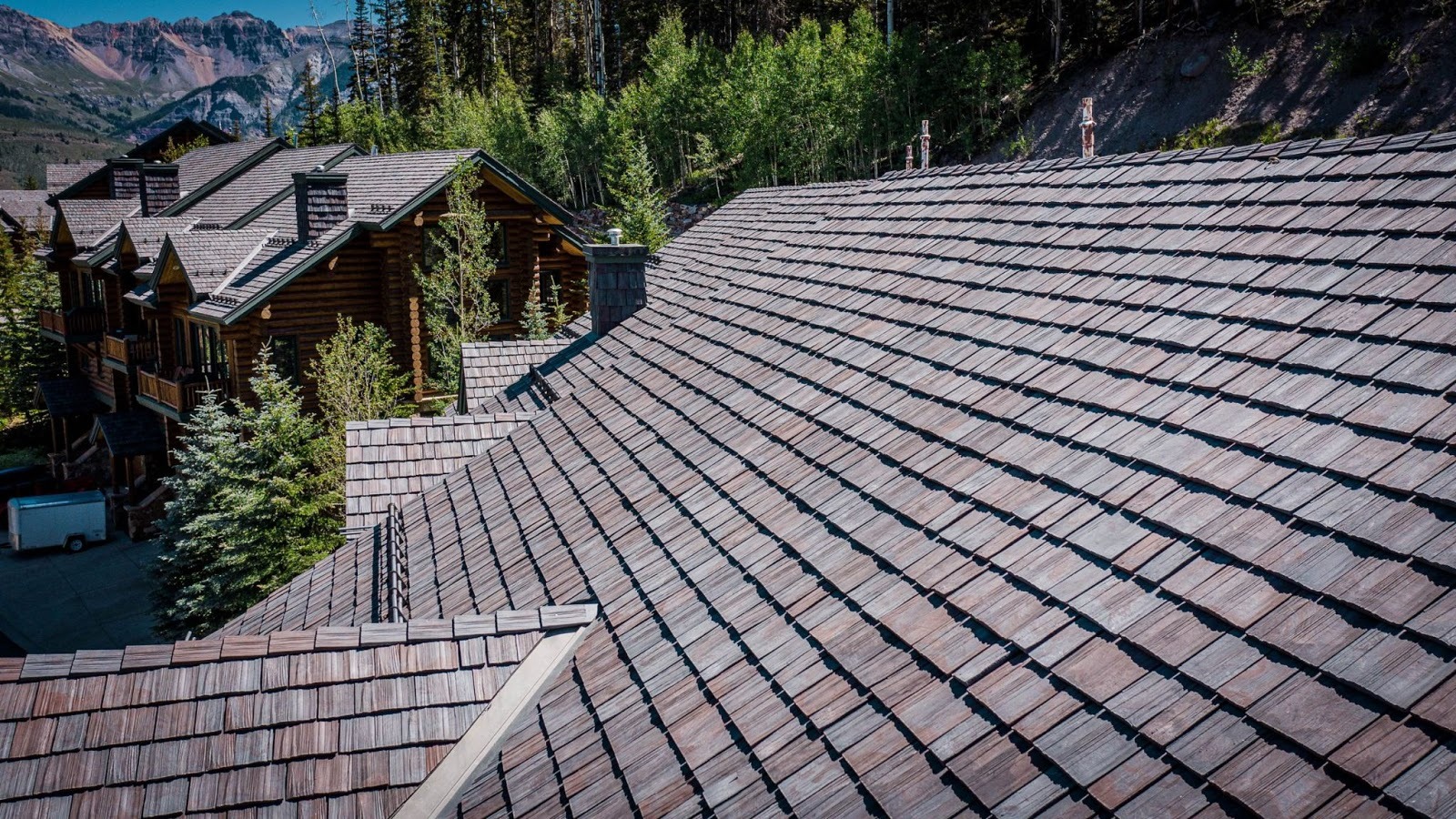 Brava Roof Tile makes composite cedar shakes in an almost unlimited combination of colors, and the color permeates throughout the shingle - not just on the surface.
As the shingles age, the original color will not disappear, which means you won't need to replace the roof just because the color has faded. If we supply more than one style of tile on your roof, we can make sure that all of the tiles will be color matched, guaranteeing uniformity across the roof.
Other important considerations for choosing Brava roof tiles:
Include a standard 50-year limited warranty
Can be recycled, keeping them out of landfills
Can be installed with a nail gun, in the cold
Provides free samples.
Our website contains many videos and PDF documents to help you understand our product and to also provide guidance throughout the installation of your new roof. In addition, we also have a professional customer service staff that can be reached by phone at 844-290-4196.
Contact us today for your free samples, and see why so many homeowners across Canada have chosen Brava as their source for synthetic cedar shake roofing.